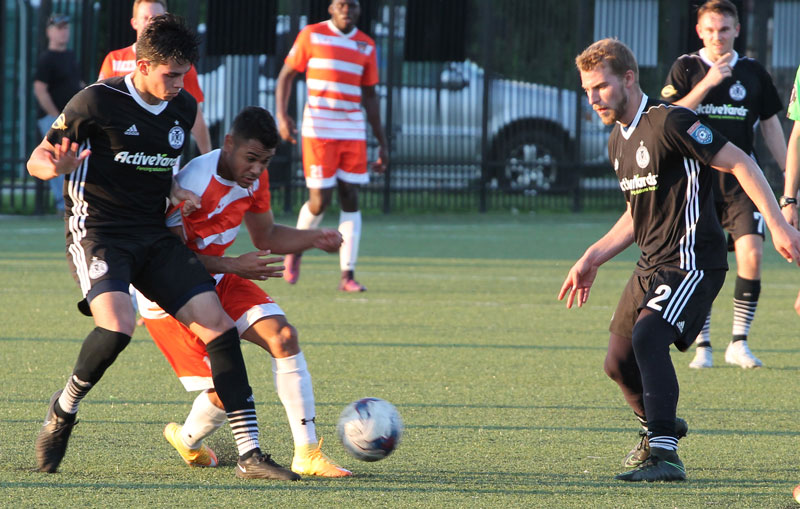 Photo credit Matt Ralph
Torch FC traveled to West Chester, PA on May 31st to face the undefeated West Chester United  on a beautiful Wednesday evening game that proved to be a defensive feat for both sides.
The play on the field was neck and neck till the final whistle. Both teams had scoring opportunities, starting off with much of the possession leaning towards West Chester abusing the space on the right side flank and forcing Torch FC to make a tactical change from the bench when Will Woodfin replaced defensive right-back Kenny Varady.
After the change, Torch FC's defense came up big with Matthew Guidice, Joshua Coupar, Will Woodfin and Jeremiah Mateola not giving the wingers much space to make penetrations into the box eliminating the Predators shots on goal.
Early in the second half a cross from the left side ended up next to Thiago Dos Santos where he volleyed the ball into the left corner of the goal. West Chester's goal keeper come up big with a dive to his right to hit the ball wide for a corner kick.
Torch FC showed their strengths in the transition game from the back to the outside wingers. The attack finally broke into the defense in the second-half when Phil Hagerty moved up into attacking-mid causing trouble defense line into the final third to come away with goal scoring opportunities. West Chester had a disciplined back line and minimized mistakes and did not give much space to work the ball.
Late in the 80th minute,  Torch FC thought they had a penalty opportunity in the box,  the non call came from a rough challenge on top of the 18 where Dos Santos ended up on the ground with many of the Torch players pleading for a call from the referee.
Matt Palmer, Torch FC goal keeper and Man of the Match nominee came up with an amazing sliding save late in the game, cutting off a scoring opportunity from West Chester that end up with a scrappy high cross over the back post.
The next match for  the Torch FC men's team will be on Sunday 4:30PM at Pennridge High School in Perkasie, PA.  The next 4 games will all be at home and please visit our schedule  www.torchsportsministry.org for more information.
Man of the Match: GK Matt Palmer, Big saves down the stretch for a 0-0 draw
Goal: 0
Starting Lineup: #0 Matt Palmer, #3 Joshua Coupar, #20 Kenny Varady (46′ #5 Will Woodfin), #10 Matt Giudice, #25 Pedro Sousa (66′ #15Nick Marculo),  #11 Thiago Dos Santos, #21 Jeremiah Mateola, #17 Phillip Hagerty, #2 Dominic Powers, #2 Khalil Karl, #8 Mitchell Robinson (14'#15 Cody Boerema , 69′ Cody Gangaware)
Subs: #15 Cody Boerema, #15Nick Marculo, #4 Cody Gangaware, #5 Will Woodfin
http://www.torchsportsministry.org/wp-content/uploads/2017/06/5_31-WestChester_thiagoDosSantos-shirtpull.jpg
509
800
Fernando DeSouza
http://www.torchsportsministry.org/wp-content/uploads/Buxmont_Torch_FC_Logo-269x300.png
Fernando DeSouza
2017-06-05 14:39:16
2017-06-05 16:18:54
A hard fought match ends in a draw in West Chester and 1 point for both teams