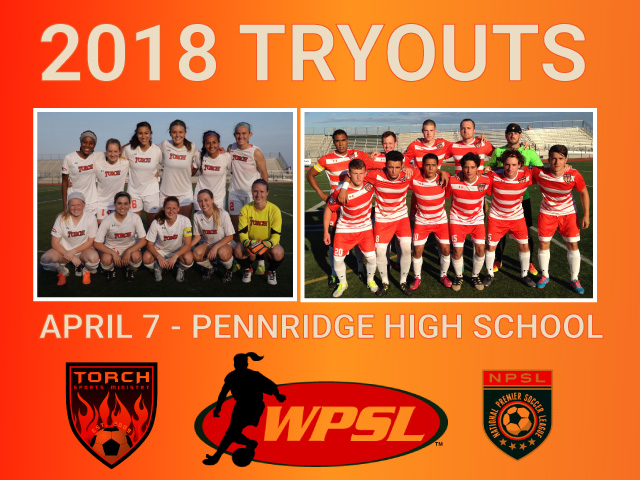 Torch FC announced in January that the club will be holding NPSL and WPSL tryouts on Saturday April 7 at Pennridge High School stadium, 1228 N. Fifth Street, Perkasie, PA, starting at 11:30 a.m. Torch FC head coach Rich Sparling will be joined by Torch Sports Ministry staff and coaches. The tryout will also be opened to the media and public.
The tryout will feature NPSL & WPSL pace small-sided drills, a free lunch, scrimmages and instructions about final rosters spots. This event registration fee will be $50 and will help cover Under Armour long sleeved tee, secondary health insurance and administration fees.
All interested players must register at www.torchsportsministry.org/player-application by March 24th to reserve your t-shirt size. Along with registration, all participants will have to check-in with staff on the day of the event beginning at 11:30 a.m.
Select roster spots will be offered to players to join the Torch FC.
About Torch FC
BuxMont Torch FC men's team play in the National Premier Soccer League which is ProAm and is the 4th tier of USA men's soccer. The women compete in the Women's Premier Soccer League which also is ProAm and is the 3rd tier of USA women's soccer.
Home games are played at Pennridge High School Stadium in Perkasie, PA that has a capacity of 2,000 spectators. Players are encouraged to use the platform of sports to share about their faith after matches and summer soccer camps.
Torch Sports Ministry is a ministry that was established during the summer of 2009 which utilizes sport as a means to spread the Gospel of Jesus Christ and to disciple and train sports ministers. We are a ministry of CrossWorld and partners with Push the Rock and are located in Upper Bucks-Montgomery-Lehigh Counties, PA.
http://www.torchsportsministry.org/wp-content/uploads/2018/01/tryouts-1.jpg
489
825
Fernando DeSouza
http://www.torchsportsministry.org/wp-content/uploads/Buxmont_Torch_FC_Logo-269x300.png
Fernando DeSouza
2018-01-16 15:13:53
2018-01-16 15:54:24
Tryouts announced for 2018 season